SEND
Our SENDCO is Mrs Moorby. We also have a Learning Mentor called Mrs Kendal who works alongside families. Miss Van Mechelen supports Mrs Moorby in delivering high quality provision for pupils with additional needs in our school.
If your child has an additional/special need or disability we will do our best to meet their needs. Your application for a place will be considered in the same way as for other children. Staff will liaise with you, the previous school or setting and the support services that are in contact with your child to ensure a smooth move to Trumacar Community Primary School.
We aim to meet the needs of all our children including those with a disability through monitoring their progress closely and through implementing our special needs, anti bullying and behaviour policies. If children fall behind with their learning we put into place catch up programmes. If they continue to face difficulties we will write an individual plan with specific targets. Your child may spend short periods outside the class working on these targets with a teaching assistant. Teaching assistants may also be used to support your child's learning in the classroom.
If you are concerned about your child, please talk to their class teacher and then if need be Mrs Moorby, the school's Special Educational Needs and Disability Coordinator. We also have a Learning Mentor – Mrs Kendall who works with families and children to ensure that the right support is being given through school and involving other agencies when appropriate.
To email the SENDCO, please click here.
The school has facilities for the disabled including lifts, disabled toilets and a shower / changing room.
The school has an active accessibility plan which has been drawn up under the Disability Discrimination Act 1995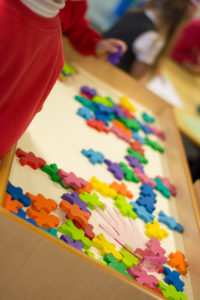 The Governing Body regularly reviews its Special Needs Policy so that it reflects current practice in school. If you would like to read the SEN Policy, a copy can be requested via the school office. If you would like your own copy this can be arranged but a charge will be made to cover photocopying costs. The Special Needs Governor is Ms Wearing.
For more about the school's provision for children with AEN click on the following link: SEND Policy, SEND information report for Trumacar and our Local Offer for SEN pupils .